Traditionally, people rely on smartphones for convenient on-the-go experiences. But over the past year, it's evident that we all need more flexible smartphone experiences, that maximize the powerful features of our devices while still maintaining the portability and simplicity we all love. Whether it's multi-tasking between work and homework, binge watching TV, playing addicting mobile games, or video calling friends and family for hours, we want to enhance these experiences. Enter Ready For, a versatile platform that unleashes the power of your phone amplifying everything it is capable of. Move your phone's games to the big screen for a huge boost of adrenaline. Or feel like you're right in the room during video calls. And use your apps on a desktop display, giving you more space to work and play.1
To experience Ready For, simply connect your moto g100 to a portable monitor or TV display via USB-C to USB-CⓇ cable or USB-C to HDMI1. Advance your experience with Motorola's Ready For dock or add BluetoothⓇ accessories like a mouse, keyboard or gaming controller for more control. There's no need to download software, change settings, or even open an app to get started. Ready For's capabilities are easily discoverable with the Experience Hub which lets you explore all the possibilities to extend your smartphone's capabilities to bigger screens. One click takes you to an easy-to-read dashboard, where all your TV, gaming, and video chat content is organized and easy to access.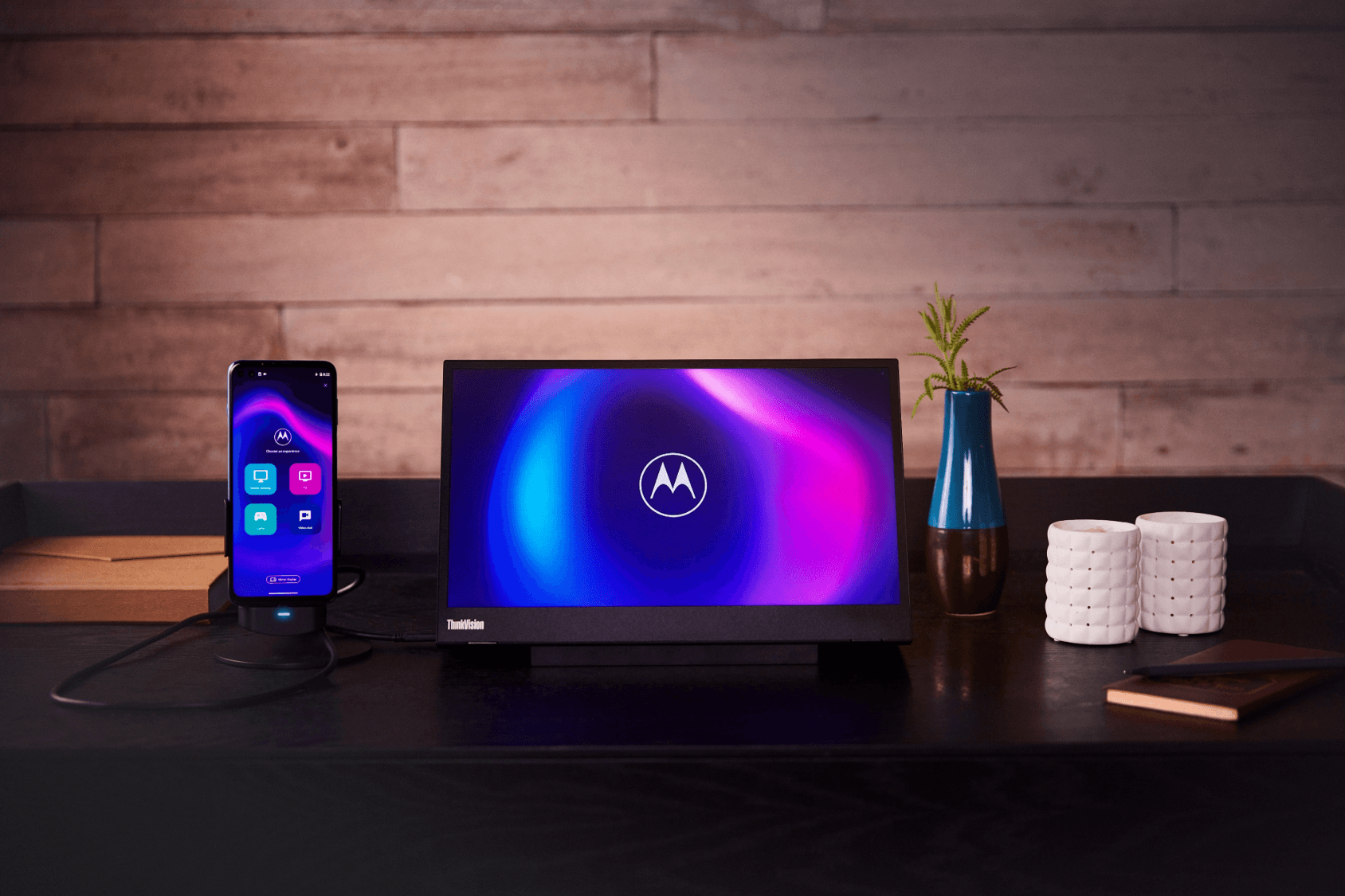 By moving your content to a bigger screen and taking full advantage of the hardware and software on moto g100, you'll be ready for anything.
Multitask like magic
With everyone working and playing from home, it can be tough to get the connectivity and space you need to get things done. Now you can take your work wherever you want with the convenience of a full desktop experience at your fingertips. When moto g100 is connected to a portable monitor or TV, Ready For lets you view multiple windows at once while still using your phone as a phone to make calls, send texts, or toggle between apps. Take a closer look at videos, artwork, and documents on a larger display for the ultimate uncluttered workspace powered by the latest QualcommⓇ SnapdragonTM 870 5G Mobile Platform and blazing fast speeds. You can connect a BluetoothⓇ keyboard and mouse for a complete desktop computing experience, or just use your phone as a trackpad instead.1
Video calls maximized
Whether you're on a video call for work or just recording something for fun, you deserve to look your best - so why not leverage your phone's next-generation connectivity and high-end photography hardware for better results? Now, you have the option to pick between the 64 MP main lens that helps every scene look vivid and clear, or 16 MP ultra-wide lens that lets you capture more people in one frame for the ultimate group video call. Quad Pixel technology compensates for low lighting to ensure everything comes across sharp and bright.
Your own film crew
Making sure you're front and center when on camera isn't easy. As mobile content creation rises, we've made it easier than ever to film your cooking class from your kitchen or give an A+ worthy presentation to your classmates by activating Ready For's industry first advanced subject tracking3. It tracks face movement to ensure you're always front and center when video calling and recording.
Advanced subject tracking3 automatically determines the best camera to use. It tracks movement and zooms in and out to ensure everyone stays in the frame whether it's a group or just you. When you connect to a second screen, you can review how your shot looks and make adjustments in real time, providing the ease and flexibility to getting the perfect result no matter what.
Play it your way
Ready for a more exhilarating, immersive gaming experience on moto g100? With the lightning-fast processor of moto g100 you'll never have to worry about falling behind on the leaderboard. QualcommⓇ SnapdragonTM Elite Gaming gives you advanced customizations and ultra-realistic graphics to amp up the experience. Plus, you can recreate the experience of console gaming by bringing your favorite mobile games2 to a bigger screen or a mobile display,1 and even pair a BluetoothⓇ controller for an intuitive and hands on gaming experience.
See the big picture
Take the already incredible entertainment experience on moto g100 to the next level when you connect your phone to an external display. Ready For works with most TV's or displays,1 so no costly Smart TV is required. And when you're on the go, you can take your full library of content with you with no need to worry about your passwords to Netflix, Amazon, or YouTube. The TV launcher allows you to see all your favorite apps and entertainment at a glance in an easy-to-read dashboard.

Ready For Dock
Advance your experience even more with the Ready For dock, which holds your smartphone in portrait or landscape mode for easy positioning no matter how you're using your phone. Easily adjust the angle using its flexible hinge design or mount it on a tripod. Whichever way you choose, an integrated fan keeps things cool while keeping your workspace free from clutter.
Unlimited Possibilities
These are just a few of the ways to use Ready For, and since we're dedicated to continually evolving the Ready For experience, there are plenty more advancements on the way. Soon, we plan to add additional flexibility to the platform by allowing wireless accessibility from your PC. We're also working to bring the new Ready For experiences to the Lenovo ThinkReality A3 AR smart glasses, which would allow for extended Ready For mobile desktop, video, gaming and entertainment experiences in augmented reality when connecting the moto g100 to monitors, keyboards and Lenovo's AR glasses.
Ready For speaks to just how transformative technology can be when amplified to its fullest potential, offering endless opportunities for us to think outside the box of a traditional smartphone experience. This versatile platform is one we plan to build on in innovative new ways moving forward, exploring new capabilities to improve the way we live, work and play with our smartphones.
Availability
Ready For will be available on moto g100 and motorola edge+. Availability of these devices vary by market. Contact your local PR rep for local information. Images can be found here (you agree to our license terms when downloading images or videos).
Legal disclaimers
Certain features, services and applications are network dependent and may not be available in all areas; additional terms, conditions and/or charges may apply. Contact your service provider for details. Use of this device is subject to the terms of your wireless service plan. This product meets applicable Radio Frequency Emission Exposure Guidelines. Accessories individually labeled. MOTOROLA, Stylized M Logo, MOTO and the MOTO family of marks are trademarks of Motorola Trademark Holdings, LLC. USB Type-CⓇ and USB-CⓇ re registered trademarks of USB Implementers Forum. Google and Android are trademarks of Google LLC. LENOVO and THINKREALITY are trademarks of Lenovo. The BluetoothⓇ word mark and logos are registered trademarks owned by Bluetooth SIG, Inc. and any use of such marks is under license. All other trademarks are the property of their respective owners. © 2021 Motorola Mobility LLC. All rights reserved.
1Video-enabled USB-C cable or USB-C-to-HDMI adaptor required; TV or monitor must have HDMI port or USB-C video-in port.
2Game must support BluetoothⓇ controller input.
3Can recognize up to 3 faces/people in the same frame